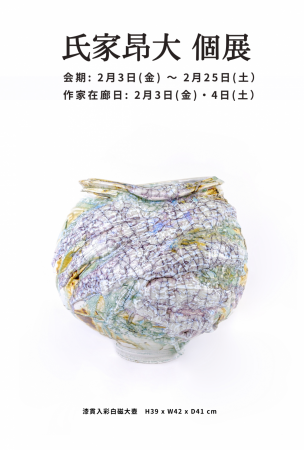 氏家昂大 個展 / Kodai Ujiie Solo Exhibition
2023年2月3日(金)〜 25日(土)
2023年2月3日(金)〜 25日(土)
February 3rd - 25th, 2023
休廊日:日・月
貫入に色漆を染み込ませる独創的な「漆貫入彩」によって生命の息吹を吹き込まれた作品は、現代アートを思わせる有機的な形状と相まって観る者の目をとらえて離しません。

弊ギャラリーでの初個展をギャラリーCとギャラリーAの両方のスペースで開催いたします。大壷、茶器、酒器、花器、香合、蓋物など大型作品から小作品までの幅広い作品群をぜひお愉しみください。

The works, which are infused with life through the creative "urushi kannyu-sai" technique, in which colored urushi lacquer is soaked into the kannyu (crazing), together with their organic shapes reminiscent of contemporary art, are sure to catch the viewer's eye.
We are pleased to present his first solo exhibition at our gallery in both Gallery C and Gallery A. We hope you will enjoy the wide range of his works, from large to small, including jars, tea bowls, sake wares, vases, etc.



» インタビュー記事