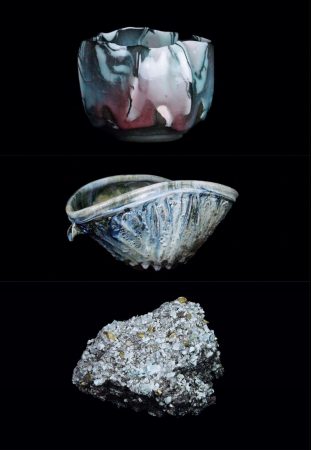 稲吉オサム・清水万佐年・若尾経 三人展 / Three Artists Exhibition – Osamu Inayoshi, Masatoshi Shimizu, Kei Wakao
2021年12月10日(金)-2022年1月15日(土) / December 10th, 2021 - January 15th 2022
年末年始のお休み: 2021年12月26日(日)~2022年1月4日(火)
Closed from December 26, 2021 to January 4, 2022 for the New Years holidays.
渥美焼の魅力の再現を目指し、考古的な追求をしながら、独自のスタイルで制作する稲吉オサム。
丹波伝統の蛇窯で、土味を生かしながら新たな境地を開拓する清水万佐年。
青瓷、米色瓷、象牙瓷など多彩な釉調と動的な造形が一体化した作品を生み出している若尾経。

三人とも、日本古来から続く伝統に依拠しながら、より自由な色彩、釉薬の実験的配合等により新たな美の可能性を切り開いています。
その背後には、陶芸と現代アートが融合した世界に広がるセラミックアートの新たな潮流を垣間見ることもできるでしょう。
三者三様の作品を鑑賞することで、日本陶芸の現在進行形をお愉しみいただければ幸いです。

Osamu Inayoshi creates in his own unique style while archaeologically pursuing to reproduce the charm of ancient Atsumi ware which was strongly influenced by Tokoname ware, one of the six ancient kilns in Japan.

Masatoshi Shimizu, who uses the traditional Tanba snake kiln, is exploring new ground while making the most of the earthy flavors.

Kei Wakao creates works that combine a variety of glazes such as celadon, rice color porcelain, and ivory porcelain with dynamic shapes, while integrating the spirituality of Mino ceramics, where he was born and raised.

While relying on traditions that have been handed down from ancient times in Japan, all three of these artists continue to open up new horizons of beauty by using more free colors and experimental combinations of glazes. 
In the background, we can catch a glimpse of a new trend in ceramic art that is merging with contemporary art.
We hope that by viewing the works of all three artists, you will be able to enjoy the current state of Japanese ceramics.

【展示作品 / Exhibited Works】