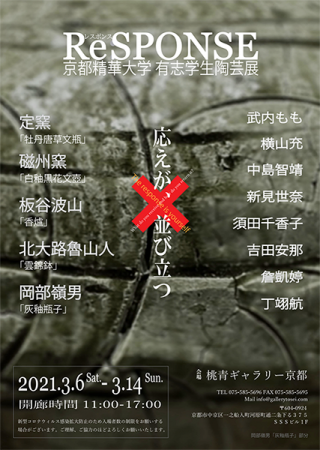 「ReSPONSE」 京都精華大学有志学生陶芸展 / "ReSPONSE" by Kyoto Seika University Studens
2021年3月6日-3月14日 March 6 to 14, 2021
出展作家 / Artist
定窯、磁州窯、板谷波山、北大路魯山人、岡部嶺男、武内もも、横山充、中島智靖、新見世奈、須田千香子、吉田安那、詹凱婷、丁翊航
展覧会は「反応」をテーマに、学生が古典・名品と対峙することで生ずる自らの作品の着想、着眼点、判断基準を明らかにしてゆく試みである。芸術の世界に単純な勝ち負けはない。しかし、「彼を知り己を知れば百戦殆からず」の故事に倣い自己研鑽の手だてとして催すこととする。

The theme of the exhibition is "Response," and it is an attempt to clarify the ideas, points of view, and criteria for judging as an artist by confronting the classics and masterpieces.
There is no simple victory or defeat in the world of art. However, as the saying goes, "If you know him and know yourself, you will never be defeated in a hundred battles" students will hold the exhibition as a means of self-improvement.
アートコレクターズ No.146 2021年6月号掲載
【展示作品 / Exhibited Works】